Aeschylus, Eumenides 430
"You would rather seem just than act so."
κλύειν δίκαιος μᾶλλον ἢ πρᾶξαι θέλεις
The Center for Hellenic Studies , the Kosmos Society and Out of Chaos Theatre has been presenting scenes from Greek tragedy on the 'small screen' since the beginning of the US lockdown in March. As our director Paul O'Mahony has put it, since we are "unable to explore the outside world, we have no option but to explore further the inner one."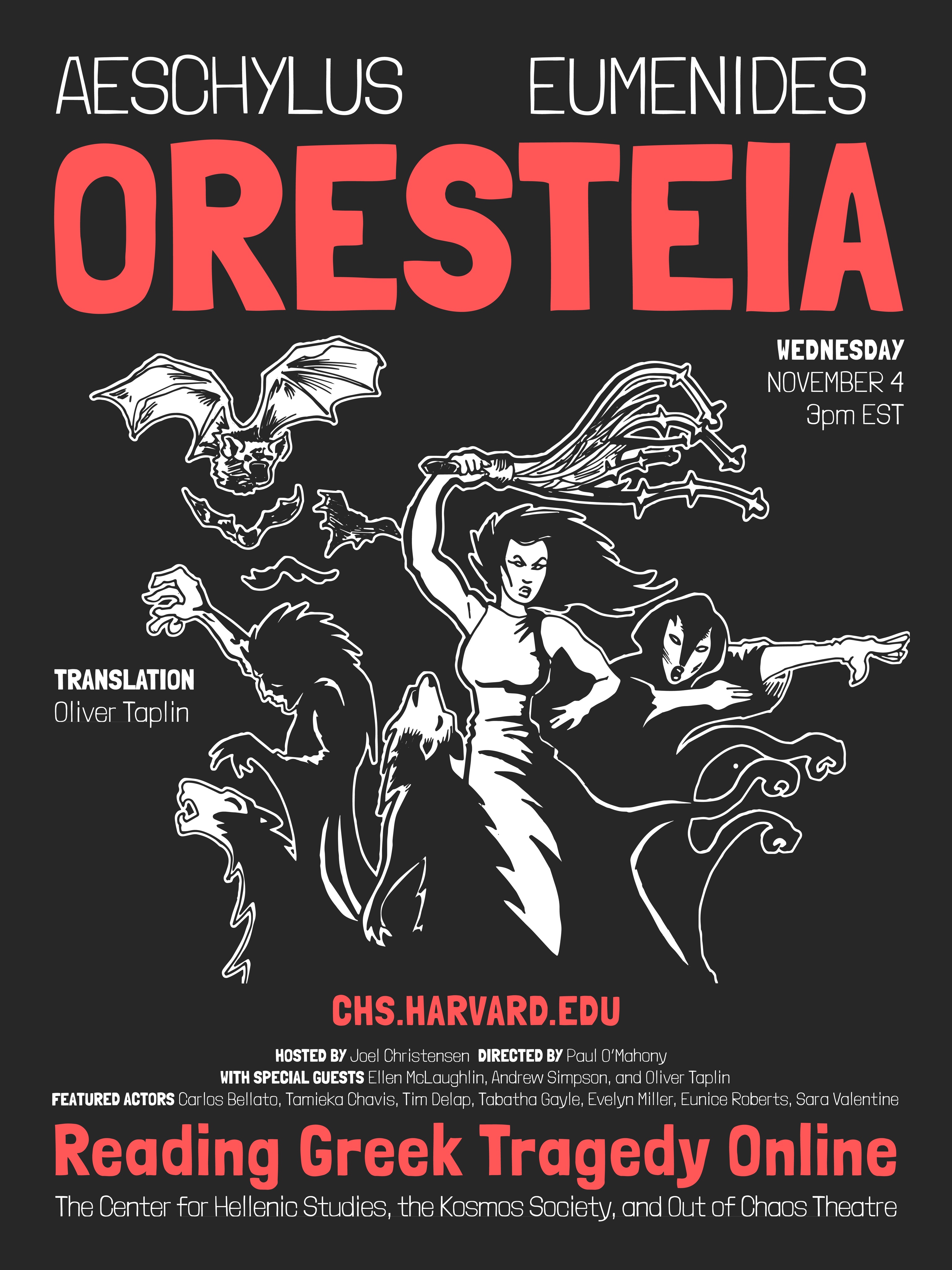 Aeschylus, Eumenides 644-651
"After the dust has soaked up the blood
Of a dying man, there is no resurrection.
My father can't cast a spell on this
But all other things he can turn back and forth
Without losing his breath at all."
ἀνδρὸς δ' ἐπειδὰν αἷμ' ἀνασπάσῃ κόνις
ἅπαξ θανόντος, οὔτις ἔστ' ἀνάστασις.
τούτων ἐπῳδὰς οὐκ ἐποίησεν πατὴρ
οὑμός, τὰ δ' ἄλλα πάντ' ἄνω τε καὶ κάτω
στρέφων τίθησιν οὐδὲν ἀσθμαίνων μένει.
This week brings us the final play of Aeschylus' Oresteia, the Eumenides. In it. We find a maddened, battered Orestes who fled from his brief 'victory' in killing his mother and Aegisthus, hounded by the earth-bound goddesses of vengeance, the Furies. At the start of this play, Orestes manages to evade them in Athens, but they too are chased by the ghost of Klytemnestra who demands vengeance for her murder.
This takes us to the final and elemental conflict of the trilogy, the face-off between justice and vengeance and the creation of trial by jury at Athens. One set of divine mandates insisted that Orestes kill his mother for her murder of his father; another set demands his suffering for killing her. How is this cycle of suffering and vengeance in any way 'just'?
The Oresteia, like the end of the Odyssey, acknowledges that a cycle of vengeance is ultimately irresolvable and that human anger and suffering demands some other remedy. In this particular version of the tale, the solution arises at Athens, where Athena and Apollo introduce a trial by peers as a solution for the retributive strife that tears states apart.
Aeschylus, Eumenides 696-698

"I advise the citizens to revere
Neither anarchy nor despotism
And never to cast fear out of the city completely."
τὸ μήτ' ἄναρχον μήτε δεσποτούμενον
ἀστοῖς περιστέλλουσι βουλεύω σέβειν,
καὶ μὴ τὸ δεινὸν πᾶν πόλεως ἔξω βαλεῖν.
Aeschylus, Eumenides 704-706
"This court must be established free of personal gain,
Revered, sharp-hearted, a wakeful guard I set over the land
For the sleeping people."
κερδῶν ἄθικτον τοῦτο βουλευτήριον,
αἰδοῖον, ὀξύθυμον, εὑδόντων ὕπερ
ἐγρηγορὸς φρούρημα γῆς καθίσταμαι.
Scenes (from Oliver Taplin's Translation)
Just wait and see!
Performers
Orestes – Tim Delap
Pythia/Apollo – Evelyn Miller
Clytemnestra/Athena – Eunice Roberts
Chorus – Carlos Bellato, Tamieka Chavis, Tabatha Gayle, Sara Valentine
Special Guests: Ellen McLaughlin, Andrew Simpson, and Oliver Taplin
Aeschylus, Eumenides 104-105
"Sleeping lights the mind with new eyes.
But during the day, a mortal's fate is unseen."
εὕδουσα γὰρ φρὴν ὄμμασιν λαμπρύνεται,
[ἐν ἡμέρᾳ δὲ μοῖρ' ἀπρόσκοπος βροτῶν.]
Producers and Crew
Artistic Director: Paul O'Mahony (Out of Chaos Theatre)
Associate Director: Liz Fisher
Director of Outreach: Amy Pistone (Gonzaga University)
Dramaturg: Emma Pauly
Executive Producer: Lanah Koelle (Center for Hellenic Studies)
Producers: Keith DeStone (Center for Hellenic Studies), Hélène Emeriaud, Janet Ozsolak, and Sarah Scott (Kosmos Society)
Poster Artist: John Koelle
Poster Designer: Allie Marbry (Center for Hellenic Studies)
Aeschylus, Eumenides 368-369
"Humankind's delusions so sacred under the sky
Shrink as they melt on the earth without honor."
δόξαι δ' ἀνδρῶν καὶ μάλ' ὑπ' αἰθέρι σεμναὶ
τακόμεναι κατὰ γᾶς μινύθουσιν ἄτιμοι
Upcoming Episodes (Go to CHS Project Page for more information)
October 28 Libation Bearers, Aeschylus; translation by O. Taplin
November 4 Eumenides, Aeschylus
with Ellen McLaughlin (Barnard College) and Andrew Simpson (Catholic Univeristy of America); translation by O. Taplin
November 11 Medea, Euripides
with Fiona Macintosh (University of Oxford)
Aeschylus, Eumenides 977-987
"I pray that the insatiable evil
Of civil strife
Will never burn through this state.
May the dust never drink deep the dark blood of our citizens
As it terrorizes the country
In the endless rage of murder meted out for murder.
May we have joy
In our shared view of friendship
And hate with a single focus.
This is a cure of many problems mortals have."
τὰν δ᾿ ἄπληστον κακῶν
μήποτ᾿ ἐν πόλει στάσιν
τᾷδ᾿ ἐπεύχομαι βρέμειν,
μηδὲ πιοῦσα κόνις μέλαν αἷμα πολιτᾶν
δι᾿ ὀργὰν ποινᾶς
ἀντιφόνους ἄτας
ἁρπαλίσαι πόλεως·
χάρματα δ᾿ ἀντιδιδοῖεν
κοινοφιλεῖ διανοίᾳ
καὶ στυγεῖν μιᾷ φρενί·
πολλῶν γὰρ τόδ᾿ ἐν βροτοῖς ἄκος.